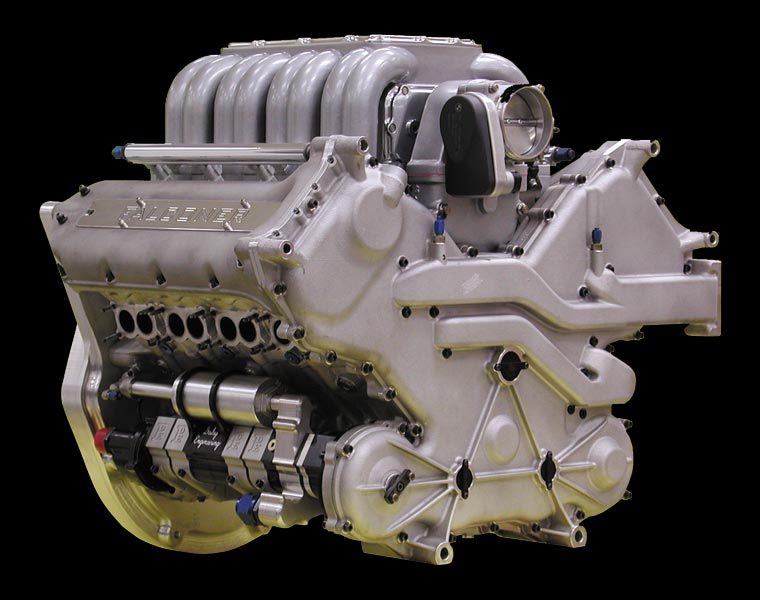 IRL Street V8 - Custom
Configuration
Displacement
Bore
Stroke
Intake valve diameter
Exhaust valve diameter
Engine weight as shown
Max horsepower as shown
Peak torque as shown
Intake
Induction
Fuel system
Fuel requirement
Oil system
Clutch
Starter
Bellhousing
Transmission requirement
V8, 90-degree, all aluminum
214 cubic inches - 3.5 liter
3.660" - 92.964mm
2.534" - 64.364mm
1.520" - 38.68mm, 2 per cylinder
1.220" - 30.99mm, 2 per cylinder
340 pounds - 154.2kg / 490 pounds - 222.26kg with transmission
560 @ 8,000 rpm
421 @ 5,500 rpm
RFRE custom manifold with 85mm drive-by-wire throttle
Eaton 112 supercharger, water-to-air intercooler
MoTeC engine management
92 octane street fuel
Dry sump with Dailey Engineering pump
Tilton carbon fiber 3-plate
Tilton
RFRE custom billet
Getrag 6-speed
Additional information:
This engine was installed in a Shelby Cobra continuation chassis that featured a wealth of modern racing components. Calipers and rotors were from Brembo with the rotors supported on custom billet titanium brake hats. Indycar-grade CV joints replaced the common bulky driveshafts and BBS Indycar wheels with single nut Indycar hubs completed the chassis. A Sparco quick-disconnect steering wheel was fitted with a miniature MoTeC ADL dash, while a full-size MoTeC dash was used in place of traditional instruments.
Check out the IRL Street V8 Photo Galleries.