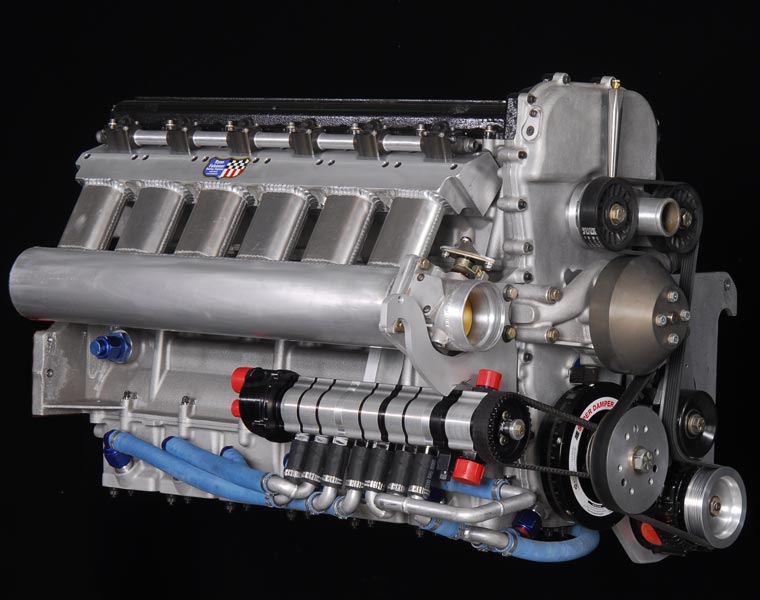 Falconer L6 Racing 1 of 1
Falconer L6 - Racing
Configuration
Displacement
Bore
Stroke
Intake valve diameter
Exhaust valve diameter
Engine weight as shown
Max horsepower as shown
Peak torque as shown
Intake
Induction
Fuel system
Fuel requirement
Oil system
Clutch
Starter
Bellhousing
Transmission requirement
Inline 6, all aluminum
259" - 4.24 liter
4.090" - 103.89mm
3.280" - 83.31mm
1.75" - 44.45mm, 2 per cylinder
1.45" - 36.83mm, 2 per cylinder
450 pounds - 204.12 kg
1,300 @ 7,500 rpm
1,150 @5,000 rpm
Hogans custom alunimum intake with BBK throttle body
Twin turbocharged, water-to-air intercooled
MoTeC engine management
117 octane race fuel
Dry sump with Dailey Engineering pump
Specialized racing clutch
Tilton
Same as Small Block Chevy
Specialized manual shift racing transmission
Additional information:
This racing Falconer L6 was built to power Dennis Varni's Speed Nymph streamliner into the 300 mile-per-hour club in August 2010 with a final run of 317.7 mph. Additional runs in 2011 yielded even higher speeds, and for 2012, further runs are planned to see if the Speed Nymph can go even faster.
Check out the Falconer L6 Photo Galleries.
Falconer L6 Racing 1 of 1