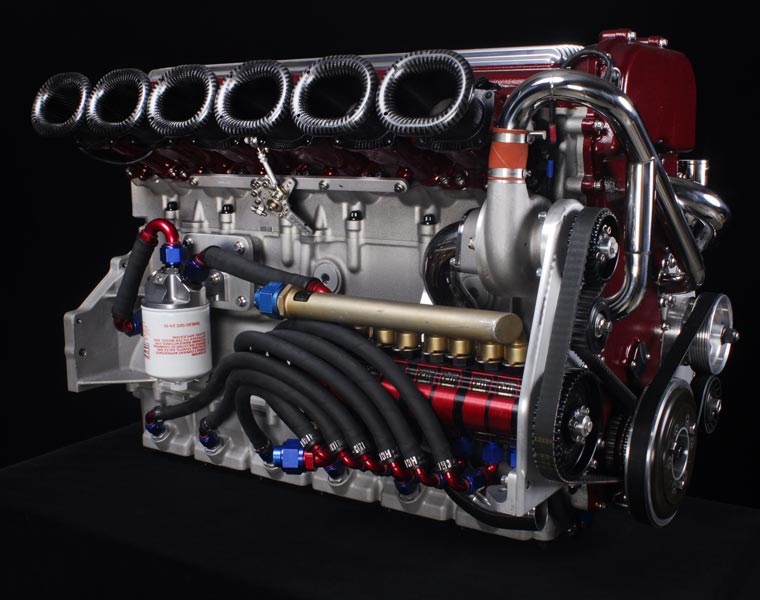 Falconer L6 - Custom
Configuration
Displacement
Bore
Stroke
Intake valve diameter
Exhaust valve diameter
Engine weight as shown
Max horsepower as shown
Peak torque as shown
Intake
Induction
Fuel system
Fuel requirement
Oil system
Clutch
Starter
Bellhousing
Transmission requirement
Inline 6, all aluminum
302" - 5.0 liter
4.090" - 103.89mm
3.858" - 98.00mm
1.75" - 44.45mm, 2 per cylinder
1.45" - 36.83mm, 2 per cylinder
363 pounds - 164.65 kg
480 @ 7,000 rpm
414 @ 5,000 rpm
Kinsler independant runner
Natually aspirated
MoTeC engine management
92 octane street fuel
Dry sump with Barnes pump
N/A (was used with automatic transmission)
Tilton
Same as Small Block Chevy
Art Carr custom automatic
Additional information:
This engine was built for a very customized 1941 Chevy 2-door convertible. The owner wanted something a bit more bold than the original stovebolt inline 6 that originally powered the car. Mild camshaft profiles still yielded an impressive power figure for this racing engine turned street prowler. For instance, it generates 316 lb/ft of torque at 2,100 rpm.
Check out the Falconer L6 Photo Galleries.